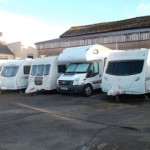 Look for caravan storage in Shevington to store your caravan during the cold winter months. Choosing a facility requires some groundwork, but the benefits are long term. Start by examining the premises of the caravan storage facility. What are your first impressions? Is the location convenient? Is the staff friendly? Concerns about security should be your top priority. Ask the facility whether they have closed circuit television cameras in operation at all times. If so, does it cover more than just the entrance? Also take note of how easy it is to get access to the facility. Do you require a special key? Pricing will be another concern. The cheapest facility may not be the best one. Always opt for the middle ground. Ensure the cost includes security features. Next, inquire about the facility's opening hours. If you will need to access the place outside of regular business hours, the facility must be willing to meet your needs. A storage facility that offers 24 hours access is your best bet. Lastly, do you require additional site services and facilities such as repairing and vehicle cleaning? Some facilities also offer outdoor and indoor storage.
For caravanners in Shevington, caravan storage is offered at Talbot House Boarding Kennels & Cattery. We are proud to offer a secure caravan storage facility on our premises throughout the year. Our facility is on hard standing ground in an enclosed compound that is equipped with a locked gate. Our caravan storage facilities are affordable at just £5 per week. We invite customers to come down and have a walk around the premises. Our friendly staff will be more than happy to answer all your questions. Not only do we provide secure and reasonably priced caravan storage facilities, we are also regarded as a top kennel and cattery.
If you need to park your motorhome for the winter, consider caravan storage in Shevington. Caravan storage for your motorhome can be arranged when you contact Talbot House Kennels. Why not pay us a visit and have a look at our secure caravan storage facilities?