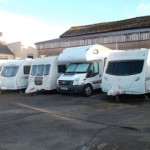 If you need caravan storage in Appley Bridge, you'll want assurance that your vehicle will be stored safely and securely. It is important to make sure that your storage space is in a location that is not isolated, but is watched on a consistent basis, by qualified personnel. Most caravan storage locations will provide hard standing surfaces where you can park your vehicle safely on a year-round basis.
In Appley Bridge, caravan storage is available year round at Talbot House Kennels. Talbot House is a year-round boarding kennel for dogs and cats in a countryside setting. There are caregivers on the property 24 hours a day, so parking your RV or motorhome here will be safe and secure 365 days a year. Caravan storage is on hard standing surfaces in an enclosed yard with a locked gate. The property, although in the countryside has regular traffic on a day to day basis. So your vehicle will not be the left in an isolated area. Call Talbot House to get more information on available spaces. For as little as 5 pounds a week, you can safely store your caravan on the premises in a locked area.
Caravan storage in Appley Bridge at Talbot House Kennels will give you peace of mind, knowing that someone is always keeping an eye on your property. There is always a lot of activity at the kennels which provides an extra level of security. Dogs are being walked on an ongoing basis on the property, so personnel are aware of anyone on the premises. You have access to your vehicle 24 hours a day. For more information about caravan storage, contact Talbot House Kennels.