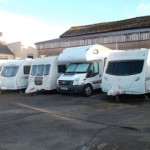 You will want caravan storage in Chorley after the holidays touring around the country in a caravan. Owning a caravan can mean that a lot of space will be occupied and having one right in front of your house will not just be an eye-sore but it will be awkward to move around it. The best course of action will be to find someone or a company that can actually store your caravan for you while it is not in use. If you are still looking for a place, then you might want to consider us, Talbot House.
In Chorley, caravan storage is another service we provide as we do not just provide boarding for cats and dogs. We have a huge space in the countryside which makes it perfect to store caravans here. Recently, a client who was looking to keep his holiday caravan called us and asked if the area that we provide for these caravans is secured. We informed him that the area is definitely secured and he does have to worry. The space dedicated to the storage is a paved area with locked gates and it is enclosed. Nobody will have access to the caravans during their stay over there. We understand that one of the most important aspects for a client is security and budget; the area is secured as well as affordable. You can keep your caravan for as little as £5 per week, which means that if you need the caravan stored for a year, then the total price is very reasonable.
If you have any questions regarding caravan storage in Chorley, do not hesitate to contact us. We would love to assist you in any way possible. Apart from the caravan storage service that we provide customers, we also offer board and grooming services for pets if you ever decide to travel without your beloved companions. Please note that the storage service is available all year round. For further information regarding caravan storage, you can contact Talbot House.