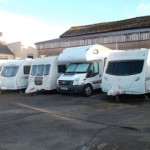 Apart from caring for animals, Talbot House also has caravan storage in Leigh to help caravan owners find a safe spot for their caravan. The area where your caravan is kept is security proven for safety and you can have your live-in motor house remain on the property throughout the entire year. The cost for keeping your caravan there is an affordable one and you do not have to worry about security as it is always behind a securely locked gate. Putting your caravan into storage can be a great way to keep it safe and damage free in between trips.
In Leigh, caravan storage space is a very sought after facility and taking advantage of the deal that Talbot House offers is a wise decision to make. While it might be stressful looking for storage and parking space, Talbot House has your needs covered. You can leave your caravan safely on their premises and go take care of other important matters. If you're going to be away for a long time, or if you want to protect your caravan from the winter weather, think about making a call to Talbot House for affordable and secure caravan storage.
For a proper storage area for your four wheel home, use caravan storage in Leigh, space that Talbot House Kennels and Cattery provides. Since there are many other caravan owners out there who are looking for a place to park their caravans, the wise move to make is for you to call and book your space ahead of time to avoid disappointment. Calling and booking a space for your caravan can make the difference between your caravan being safe rather than spending the night out in the open and without any protection. Caravan security is of the upmost importance to all caravan owners, particularly during the winter months when your caravan is in storage and can be at its most vulnerable. If you would like to keep your caravan safe while you are not using it and are looking for caravan storage, contact Talbot House.