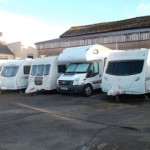 It is fun going on road trips with your caravan, but where can you find caravan storage in Wigan when you are not traveling? Most people would simply park it on the street but did you know that by doing so, you may be blocking the street illegally? It may also be a safety concern for children and pedestrians. Parking your caravan near your residence may limit or prevent road access for other cars and vehicles. It also shuts out daylight and blocks windows. If your caravan has gas cylinders attached then it could be dangerous. Law enforcement officials may take action against you for parking your caravan on the street. Let's not forget what an eye sore a caravan can be if parked in your driveway or street.
Talbot House Kennels provides a Wigan caravan storage service for people who do not have space to safely and neatly park their vehicles near their residential premises. At Talbot House Kennels, they have a secure and enclosed yard which has a lock ensuring that your caravan remains safe on the premises. Unlike other parking services which have astronomical charges, Talbot House has minimal charges starting at only £5 per week. Such a low rate is affordable for most budgets. By parking your caravan at an allotted spot, you are not only ensuring the safety of children and pedestrians but you are also keeping your property safe. You also have the peace of mind that no one is going to break into your caravan and commit theft or drive away with your vehicle.
If you are looking for reliable, safe and secure caravan storage in Wigan, then contact Talbot House Kennels today. They offer low rates, safe and secure premises and ample space for caravans of all shapes and sizes. By parking your caravan at Talbot House Kennels, you no longer have to worry about theft, safety or complaining neighbours.