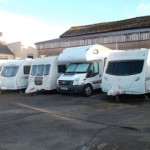 You are likely looking for a place that provides caravan storage in Westhoughton now that the summer holidays are over.
Security and cost are the two main criteria on the list when looking for a suitable place that offers caravan storage. Many caravan owners only use their caravans for a certain time period in a year, and will search for an affordable site in which to store them while not in use. Not everybody has the space they need to keep a big caravan. Parking the caravan on the road is not an option and the caravan will be vulnerable to theft or vandalism.
You can end your search for a safe place for your caravan while it is not in use. In Westhoughton, caravan storage is one of the services we offer. We provide safe and secure storage facilities for caravans. Your caravan can be stored on hard standing in an enclosed yard. The site is secure with a locked gate. The storage facility is available right through the year and you can rest assured that it will be safe during the time it is stored. Our prices are competitive. You are welcome to pay our caravan storage site a visit to see where your caravan will be stored during the winter months.
Caravan storage in Westhoughton at Talbot House is affordable and secure. To find out more about our caravan storage rates and any other details, contact Talbot House. Before bringing your caravan to be stored for the winter months, it is advisable to remove any perishable foods and flammable substances. It is also recommended to keep the fridge door ajar during storage to prevent any mould or mildew build up. All the water systems in your caravan should be drained to avoid frost damage. You could also provide a cover for your caravan to protect the body while it is in storage. Ensure your caravan is securely stored until you can use it again next summer.
Save