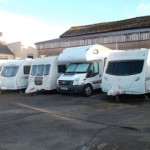 Are you looking for affordable and secure caravan storage in Standish?
The summer holidays have come to an end and it is now time to park your caravan until the next holiday season.  You cannot leave your caravan parked in the street as it could be damaged or vandalised.  It might also take up too much space on your property, blocking the driveway or being in the way.  The ideal solution would be to find a company that offers secure caravan storage. Putting your caravan into storage can be a great way to keep it safe and damage-free in between trips.
In Standish, caravan storage is available at Talbot House Kennels.  Aside from offering boarding for cats and dogs, they also offer secure caravan storage. They can provide you with safe secure caravan storage all year round on their premises. Caravans are safely and securely stored with on hand standing in an enclosed yard behind a secured locked gate. You can be secure in the knowledge that your caravan will be safe at Talbot House Kennels, as their mission statement is to provide the highest standards through reliability and good service, commitment to excellent service, professionalism, integrity and honesty.
Caravan storage in Standish at Talbot House Kennels is the answer to your storage query. They understand that an important aspect for a customer is both security and budget.  The area for caravan storage is secure as well as affordable. Other than yourself, nobody will have access to your caravan while it is in storage. Talbot House Kennels offer secure caravan storage at extremely competitive rates, ensuring peace of mind for you knowing that your caravan is safe from harm during the times it is not in use. If you are wondering where to go for secure, yet affordable caravan storage, contact Talbot House Kennels.