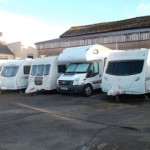 If you are looking for a place that offers safe caravan storage in Wigan, speak to Talbot House Kennels. While we are primarily a centre for dog and cat boarding, we also offer secure caravan storage. If you don't have the space on your own property and are hesitant to keep your caravan on the road, caravan storage at our secure facility ticks all the boxes.
When you aren't travelling in Wigan, caravan storage is ideal for the safe keeping of your holiday home on wheels. We offer secure and safe, fully enclosed place for caravan storage. Fully secure and with a padlocked gate, your caravan can safely be stored until it is time to use it. Our process are affordable, and you will have peace of mind knowing that your caravan is safe from potential vandalism or theft. Our storage facilities are available throughout the year. Travelling with your caravan is a wonderful way to spend a holiday. The only disadvantage of owning a caravan is finding suitable space to store it when it is not in use. Caravans can be large and take up too much space in your garage, or in your yard. It is also not sensible to leave it parked in the street. This is an invitation for thieves and vandals. This is why we are happy to offer a secure area for caravan storage. Cleaning a caravan can be quite a task. It is not ideal to clean your caravan on the road where you live after a long trip. At our storage facility, there is sufficient space for you to give your caravan a through spring clean without disturbing anyone else.
Caravan storage in Wigan is available for long term or short term rental. If you would like to find out more about our rates for caravan storage, contact Talbot House Kennels. Situated in the countryside of Worthington, your caravan will remain secure in the locked, enclosed area designated for caravan storage. You will have peace of mind knowing that your caravan is safe, waiting for the next time you decide to hit the road.