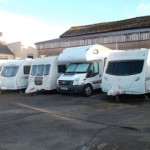 We were recently asked about our caravan storage in Haydock, by a customer who had previously used our kennel and cattery service. They had heard that we also provided space for caravans all year round and having previously used the excellent service we provide for cats and dogs, were delighted at this extra service that we offer. That was why they got in touch with Talbot House Kennels. We offer the same fantastic standard of customer service, allied to outstanding value for money, whichever service our customers use us for.
Our Haydock caravan storage is a perfect solution for clients from across the north west. There's no better hobby than caravanning, as it allows you to go where you want, when you want. There's so much to see and do in this wonderful, varied country that we live in, and caravans allow you to enjoy it all without the time and expense of having to book a hotel. Sometimes it's nice to enjoy a familiar surrounding, and so caravanning is like going on holiday while staying at home. Staycations have become increasingly popular in recent years, and as caravan lovers ourselves we can certainly understand why. Our secure storage facility is the perfect solution for caravanners, whether they're new or experienced.
By taking advantage of the caravan storage in Haydock, you'll never have to tie it down to one particular site, or worry about the security of your caravan when you're not around. Caravans can make attractive targets for opportune thieves, especially if they know that the owners are away. We take security seriously, so you can be assured that your caravan is safe on our property. We keep the caravans in an enclosed yard, with a strong and locked gate. The yard has a hard surface, making it suitable for use all year round. We can accommodate any size of caravan or mobile home, so it's ideal for people who are in the process of moving premises, or who don't have the grounds at their own home. Our flexible terms mean that you can store your caravan for a week upwards, from as little as £5 per week. Call us today for more information.